Seriously this time..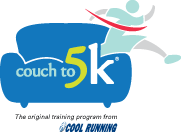 I'm going to blog I swear!!! I may even start vlogging! We will see!
Today I start the amazingly awesome Couch to 5K program! I hope that in 9 weeks I will be able to run a 5k easily!
It's on my bucket list to run a marathon and I will do it this year! It's exactly 10 weeks until I turn 30 and it would be a fantastic present to myself to finish this program.
I'm going to be using the Couch to 5k App on my lovely new iPhone I got a couple weeks ago that tracks everything for me. I am going to be tracking my food intake via the MyFitnessPal.com website and app as well. I can see when I do bad and when I do good it has my calorie goals built into the software.
On top of doing the program I may also throw in some Zumba now and then, I purchased the DVD set a couple months ago and have done it once.. It's great for toning so I'll throw that in now and then to mix it up a little bit, more probably on my off days from work since it takes like an hour to do.
If you have any fitness tips or awesome recipes please share them! I'm excited to get started on everything and am determined to stick to it this time!
I will post a weight in with everything tomorrow, I forgot to weight in this morning due to having a job interview.
This entry was posted on Monday, April 18th, 2011 at 12:32 pm and is filed under Blogging. You can follow any responses to this entry through the RSS 2.0 feed. You can leave a response, or trackback from your own site.